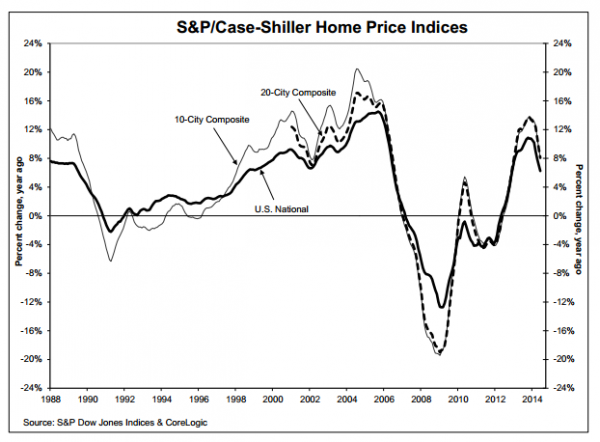 Real Estate Investing News This Week 2014-08-30
All the Real Estate News That's Fit to RE-Print™
Welcome to our weekly edition of Real Estate Investing News This Week. Highlights this week include:
Widespread Slowdown in Home Price Gains
Home Prices Continue to Climb
Home Sales Volume Is Down
New-Home Sales Slide… Again
We hope these real estate news items help you stay up-to-date with your real estate investing strategies and inspire some profitable real estate deals for you.

According to the S&P/Case-Shiller Home Price Indices, data through June 2014 show a sustained slowdown in price increases.
The National Index gained 6.2% in the 12 months ending June 2014. While the 10-City and 20-City Composites gained 8.1%; all three indices saw their rates slow considerably from last month.
Every city saw its year-over-year return worsen.


"Home price gains continue to ease as they have since last fall," says David M. Blitzer, Chairman of the Index Committee at S&P Dow Jones Indices. "For the first time since February 2008, all cities showed lower annual rates than the previous month."

By Tony Baringer, DSNews
"Black Knight Financial Services reported Monday a 5.5 percent annual increase in its Home Price Index (HPI) for June, bringing the index to a value of $241,000 based on transactions throughout the month.
June's improvement compares to increases of 5.9 percent, 6.4 percent, and 7.0 percent recorded in May, April, and March, respectively.
On a monthly basis, the HPI edged up 0.8 percent, slowing down from increases of 0.9 percent in both April and May.
As of the latest index, prices remain 10.4 percent off their national peak of $268,000 in June 2006."

Distressed Sales and Short Sales Down to 13.6 Percent of All Sales
On Thursday, RealtyTrac® released its July 2014 U.S Residential & Foreclosure Sales Report.
U.S. residential properties, including single family homes, condominiums and townhomes, sold at an estimated annual pace of 4,634,513 in July, down 3 percent from the previous month and down 12 percent from a year ago.
This is the third consecutive month where annualized sales volume has decreased on a year-over-year basis.
The median price of U.S. residential properties sold in July — including both distressed and non-distressed sales — was $191,000, up 3 percent from the previous month, and up 12 percent from a year ago to the highest level since September 2008, a 70-month high.
Short sales and distressed sales — in foreclosure or bank-owned — accounted for 13.6 percent of all single family and condo sales in July, up from 12.8 percent in June but down from 15.0 percent in July 2013.

According to newly released data by the U.S. Department of Housing and Urban Development and the U.S. Census Bureau, sales of newly built, single-family homes fell 2.4 percent in July  to a seasonally adjusted annual rate of 412,000 units in July. Sales numbers for June were 422,000.
This is a 6.0-month supply at the current sales pace.
"We are somewhat surprised by this dip, considering builder confidence and new-home starts are on the rise," said Kevin Kelly, chairman of the National Association of Home Builders (NAHB). "However, builders are increasing their level of inventory in anticipation that sales will gradually improve during the rest of the year."

—Foreclosure inventory down 34.4 percent from a year ago—
On Wednesday, CoreLogic® released its July National Foreclosure Report, which provides data on completed U.S. foreclosures and foreclosure inventory.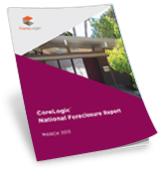 According to CoreLogic, for the month of July 2014, there were 45,000 completed foreclosures nationally, down from 57,000 in July 2013, a year-over-year decrease of 21.2 percent.
On a month-over-month basis, completed foreclosures were down by 8.5 percent from the 49,000 reported in June 2014. As a basis of comparison, before the decline in the housing market in 2007, completed foreclosures averaged 21,000 per month nationwide between 2000 and 2006.
As of July 2014, approximately 640,000 homes in the United States were in some stage of foreclosure, known as the foreclosure inventory, compared to 976,000 in July 2013, a year-over-year decrease of 34.4 percent.
The foreclosure inventory as of July 2014 made up 1.6 percent of all homes with a mortgage, compared to 2.4 percent in July 2013. The foreclosure inventory was down 3.3 percent from June 2014, representing 33 months of consecutive year-over-year declines.
Completed foreclosures are an indication of the total number of homes actually lost to foreclosure. Since the financial crisis began in September 2008, there have been approximately 5.1 million completed foreclosures across the country.


By Brian Honea, DSNews
"Foreclosure starts increased nationwide for the third consecutive month but are down 20 percent from last year, according to Black Knight Financial Services' "First Look" at mortgage data for July 2014 released on August 26.
With almost 91,000 mortgage starts in July, the volume of mortgage starts increased 2.72 percent from June, according to Black Knight. Overall inventory fell by 1.65 percent from June down to 935,000 in July. The overall inventory is down 34 percent from July 2013 and has hit its lowest level since March 2008."