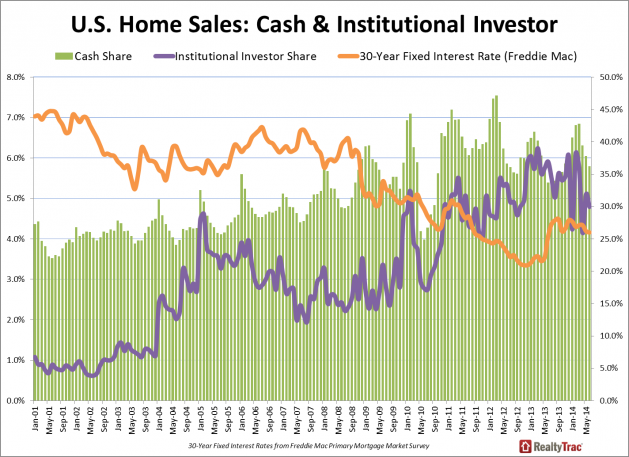 Real Estate Investing News This Week 2014-08-23
All the Real Estate News That's Fit to RE-Print™
Welcome to our weekly edition of Real Estate Investing News This Week. Highlights this week include:
US Housing Starts, Permits Surge
Builder Confidence Rises Despite Slower Sales
We hope these real estate news items help you stay up-to-date with your real estate investing strategies and inspire some profitable real estate deals for you.

For the 4th month in a row, June home sales rose higher than sales in the previous month. Closed Transactions in June were 4.5% higher than May transactions, but 1.95% lower than transactions in June 2013.
The 1.95% year-over-year difference is the closest that sales activity has come in 2014 to matching the rapid rise seen in the selling season of 2013.


While both credit availability and inventory remain tight, June home prices increased 9.6% from a year ago.
In the 52 metropolitan areas surveyed in June, the Median Sales Price of all homes sold was $210,000. This was 6.0% higher than the median price in May and 9.6% higher than the median price seen in June 2013.
On a year-over-year basis, the Median Sales Price has now risen for 29 consecutive months.

By Brian Honea
"A second quarter broad-based rebound combined with an upward revision for economic activity in the first quarter has given a boost to 2014 full-year economic expectations, according to the August 2014 Economic Outlook put together by Fannie Mae's Economic and Strategic Research Group.
The housing market lost momentum in Q2, however, as near-term indicators show that growth slowed from Q1.
Residential investment, although expected to contribute to growth in 2014 and 2015, is not expected to be a major driver of economic growth going forward as was originally forecasted."

By Reuters
"U.S. housing starts and building permits rebounded strongly in July, suggesting the housing market recovery was back on track after stalling in the second half of last year.
Groundbreaking surged 15.7 percent to a seasonally adjusted annual 1.09-million unit pace, snapping two straight months of declines, the Commerce Department said on Tuesday….
Groundbreaking for single-family homes, the largest part of the market,increased 8.3 percent in July to a 656,000-unit pace….
Starts for the volatile multi-family homes segment jumped 33 percent to a 423,000-unit rate, the highest level since January 2006."
See also: 


"Builder confidence in the market for newly built, single-family homes rose two points to 55 on the National Association of Home Builders/Wells Fargo Housing Market Index (HMI) for August, released today. This third consecutive monthly gain brings the index to its highest level since January."
All three HMI components posted gains in August. The indices gauging current sales conditions and expectations for future sales each rose two points to 58 and 65, respectively. The index gauging traffic of prospective buyers increased three points to 42.
"Each of the three components of the HMI registered consecutive gains for the past three months, which is a positive sign that builder confidence appears to be firming following an uneven spring," said NAHB Chief Economist David Crowe.

On Monday, RealtyTrac® (www.realtytrac.com) released its Q2 2014 U.S. Institutional Investor & Cash Sales Report, which shows all-cash sales accounted for 37.9 percent of all sales of single family homes and condos nationwide in the second quarter, down from a three-year high of 42.0 percent in the previous quarter but still up from 35.7 percent in a year ago.
The report also shows that sales to institutional investors — entities that purchase at least 10 properties in a calendar year — accounted for 4.7 percent of all sales of single family homes and condos in the second quarter, down from 5.3 percent in the previous quarter and down from 5.8 percent a year ago to the lowest level since the first quarter of 2012.


"The flurry of purchases by institutional investors and other cash buyers that kicked off two years ago when U.S. home prices hit bottom is finally showing signs of subsiding," said Daren Blomquist, RealtyTrac vice president, noting that the U.S. median home prices bottomed out in March 2012.
"Over the past 10 quarters cash sales have accounted for 39 percent of all home sales on average, and institutional investor purchases have accounted for 5.3 percent of all home sales on average. Prior to that, from 2001 to 2011, the average quarterly cash share was 30 percent, and the average quarterly institutional investor share was 2.6 percent."

From TransUnion:
In Q2 2014, the national mortgage delinquency rate dropped once again to 3.46%. The mortgage delinquency rate, which declined for all age groups, is now at its lowest level observed since 2008.
"Mortgage delinquency rates continue to drop and we are seeing this decline across all age groups," said Steve Chaouki, head of financial services for TransUnion.