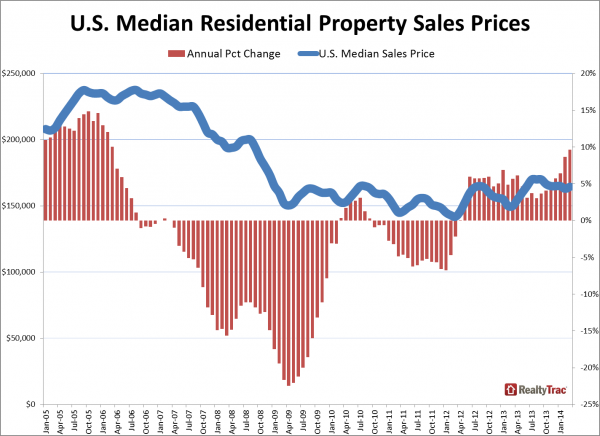 Real Estate Investing News This Week 2014-04-26
All the Real Estate News That's Fit to RE-Print™
Welcome to our weekly edition of Real Estate Investing News This Week. Highlights this week include:
Existing home sales remain soft
New home sales plummet 14.5%
Other housing numbers weak, as well
We hope these real estate news items help you stay up-to-date with your real estate investing strategies and inspire some profitable real estate deals for you.
7.5% Below March 2013
Existing-home sales were essentially flat in March, while the growth in home prices moderated, according to the National Association of Realtors®.
Total existing-home sales, which are completed transactions that include single-family homes, townhomes, condominiums and co-ops, are 7.5 percent below the 4.96 million-unit pace in March 2013. Last month's sales volume remained the slowest since July 2012, when it was 4.59 million.
Lawrence Yun, NAR chief economist, said that current sales activity is underperforming by historical standards. "There really should be stronger levels of home sales given our population growth," he said. "In contrast, price growth is rising faster than historical norms because of inventory shortages."

Sales of new single-family houses in March 2014 were at a seasonally adjusted annual rate of 384,000, according to estimates released jointly today by the U.S. Census Bureau and the Department of Housing and Urban Development.
This is 14.5 percent below the revised February rate of 449,000 and is 13.3 percent below the March 2013 estimate of 443,000.
The median sales price of new houses sold in March 2014 was $290,000; the average sales price was $334,200. The seasonally adjusted estimate of new houses for sale at the end of March was 193,000. This represents a supply of 6.0 months at the current sales rate.

Zillow's first quarter Real Estate Market Reports show home values increased 0.5 percent from the fourth quarter of 2013 to $169,800. The Zillow Home Value Index (ZHVI) climbed 5.7 percent from March 2013 levels.
The slowdown we've been observing for the last few months is continuing and is especially prominent in the metros hardest hit by the recession. Despite this slowdown, seven of the largest 35 metros in the U.S. have already exceeded or will exceed their bubble peak levels by March of next year.
While reaching peak levels in and of itself is not a noteworthy occurrence since we expect nominal home values to always be at their peak, six of these metros have exceeded their bubble peaks in real dollars and have eliminated the value impact of the housing bubble.
As we closely watch this development, we are also concerned about affordability in some areas. Strong home value gains over the last two years, especially in California, have eroded affordability and without significant growth in incomes, we expect that some future adjustment in home values will have to happen.


Zillow expects national home values to increase 3.3 percent over the next year (March 2014 to March 2015).
RealtyTrac's Q1 2014 Residential & Foreclosure Sales Report shows that U.S. residential properties, including single family homes, condominiums, and townhomes, sold at an estimated annual pace of 5,253,464 in March, an increase of 8 percent from a year ago.
The median sales price of U.S. residential properties — including both distressed and non-distressed sales — was $164,500 in March, up 10 percent from March 2013.
March was the 24th consecutive month where U.S. median home prices increased on an annual basis, and the 10 percent annual increase was the biggest annual percentage increase in that 24-month span.


Investors and second home buyers account for 34 percent of all sales in March
In March, 34 percent of all U.S. residential property sales were to buyers with a different mailing address than the property address — most likely investors or second home buyers.
Furthermore, 7 percent of all sales in March were multi-parcel transactions where multiple properties were sold on the same date and recorded on the same sales deed document. These multi-parcel transactions are likely not reported on any Multiple Listing Service (MLS).

From David Blitzer, Chairman of the Index Committee, S&P Dow Jones Indices
"Recent reports on housing show weakness despite continued rising prices.
New Home sales in March were down 14.5% from February and 13.3% below March 2013.  Sales in the northeast were up while the other three regions were all down.  The number of homes for sale was up 3.2% and the month supply rose to six, boosted by the weak sales figure.  The number of houses for sale has risen slowly over the last year suggesting that inventory may not be an issue.
Housing starts were also lackluster, down 2.4% in March from February but up 11.2% from a year earlier.  Despite the year over year gain, housing starts remain under one million units at annual rates, a pace that is too weak to meet demographic growth.
Existing Home Sales aren't making up for the new home weakness. Existing home sales were 4.59 million at annual rates in March, down 0.2% from February and down 7.5% from a year earlier.  The weakness was in both single family homes and condos and coops.  Nationally months of supply is 5.2 months, little changed in the last year."