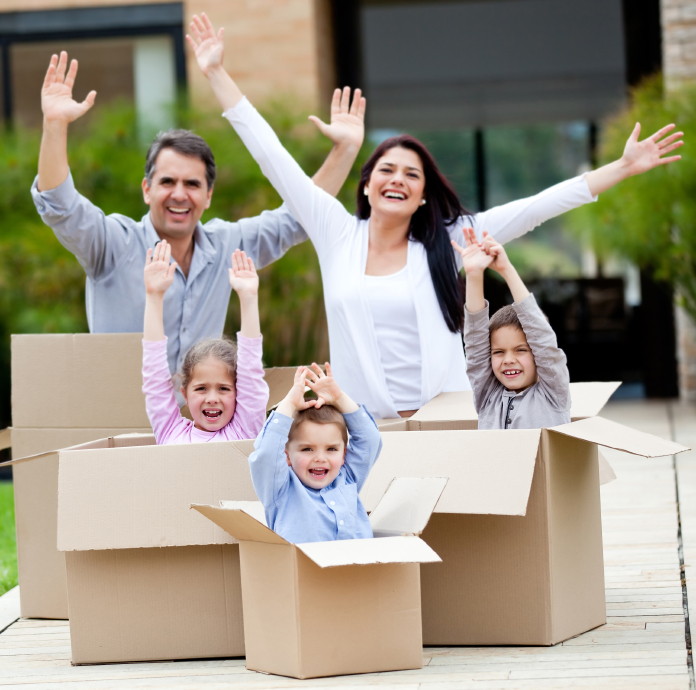 Real Estate Investing News This Week 2014-03-01
All the Real Estate News That's Fit to RE-Print™
Welcome to our weekly edition of Real Estate Investing News This Week. Here's the best of this week's real estate news:
S&P/Case-Shiller says home prices are losing momentum
Foreclosure inventory is down 33% nationally from a year ago
Sales of new homes up 9.6% in January
We hope these real estate news items help you stay up-to-date with your real estate investing strategies and inspire some profitable real estate deals for you.
Data through December 2013, released on Tuesday by S&P Dow Jones Indices for its S&P/Case-Shiller Home Price Indices, the leading measure of U.S. home prices, showed that National home prices closed the year of 2013 up 11.3%. This represents a slight improvement over last quarter's annual rate of 11.2%. In the fourth quarter of 2013, the National Index declined 0.3%.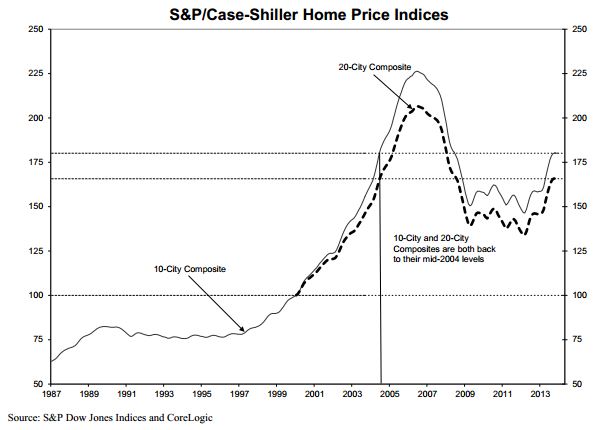 The chart above shows the index levels for the 10-City and 20-City Composite Indices. As of December 2013, average home prices across the United States are back to their mid-2004 levels.
"The S&P/Case-Shiller Home Price Index ended its best year since 2005," says David M. Blitzer, Chairman of the Index Committee at S&P Dow Jones Indices. "However, gains are slowing from month-to-month and the strongest part of the recovery in home values may be over.
Year-over-year values for the two monthly Composites weakened and the quarterly National Index barely improved. The seasonally adjusted data also exhibit some softness and loss of momentum."
The table below summarizes the results for December 2013. The S&P/Case-Shiller Home Price Indices are revised for the 24 prior months, based on the receipt of additional source data.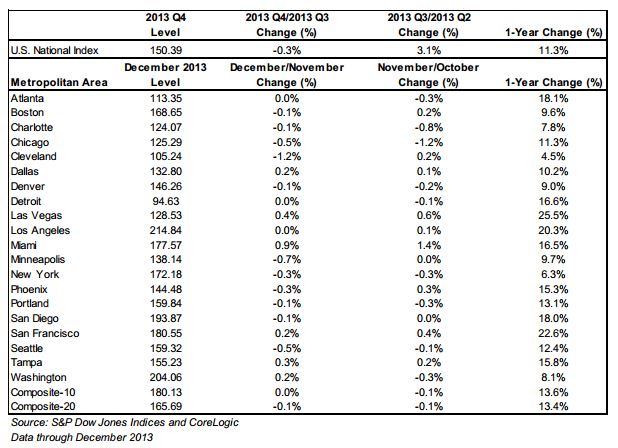 —Foreclosure inventory down 33 percent nationally from a year ago—
On Thursday, CoreLogic®  released its January National Foreclosure Report, which provides data on completed U.S. foreclosures and foreclosure inventory.
According to CoreLogic, for the month of January 2014, there were 48,000 completed foreclosures nationally, down from 59,000 in January 2013, a year-over-year decrease of 19 percent.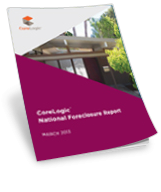 As a basis of comparison, before the decline in the housing market in 2007, completed foreclosures averaged 21,000 per month nationwide between 2000 and 2006.
As of January 2014, approximately 794,000 homes in the United States were in some stage of foreclosure, known as the foreclosure inventory, compared to 1.2 million in January 2013, a year-over-year decrease of 33 percent.
By Krista Franks-Brock
"Home prices rose 7.7 percent year-over-year in the fourth quarter, while prices for other goods and services ticked up 0.7 percent, according to the Federal Housing Finance Agency (FHFA) House Price Index, which calculates home prices among mortgages held by Fannie Mae and Freddie Mac.
A total of 38 states reported rising prices in the fourth quarter of the year, a significant showing but fewer than the 48 from the previous quarter, according to the FHFA."

By Reuters:
"Sales of new single-family homes surged to a 5½-year high in January, which could ease concerns of a sharp slowdown in the housing market.
The Commerce Department said Wednesday that sales jumped 9.6 percent to a seasonally adjusted annual rate of 468,000 units, the highest level since July 2008.
December's sales were revised up to a 427,000-unit pace from the previously reported 414,000-unit rate.
Economists polled by Reuters had forecast new home sales, which are measured when contracts are signed, falling to a 400,000-unit pace in January….
Declines in residential construction and building permits and sales of previously owned homes last month had raised concerns that the sector, which is key to the economy's recovery, was slowing down sharply.
New home sales rose 2.2 percent compared with January 2013."

 36 Percent Annual Drop in Investor Share Follows 20 Straight Months of Increases
Cash Sales Continue Climb, Short Sales and Foreclosure Sales Down From Year Ago
On Tuesday, RealtyTrac® released its January 2014 Residential & Foreclosure Sales Report, which shows that institutional investors — defined as entities purchasing at least 10 properties in a calendar year — accounted for 5.2 percent of all U.S. residential property sales in January, down from 7.9 percent in December and down from 8.2 percent in January 2013.
The January share of institutional investor purchases represented the lowest monthly level since March 2012 — a 22-month low.
Metro areas with big drops in institutional investor share from a year ago included Cape Coral-Fort Myers Fla. (down 70 percent), Memphis, Tenn., (down 64 percent), Tucson, Ariz., (down 59 percent), Tampa, Fla., (down 48 percent), and Jacksonville, Fla., (down 21 percent).
Counter to the national trend, 23 of the 101 metros analyzed in the report posted year-over-year gains in institutional investor share, including Atlanta (up 9 percent), Austin, Texas, (up 162 percent), Denver (up 21 percent), Cincinnati (up 83 percent), Dallas (up 30 percent), and Raleigh, N.C. (up 15 percent).