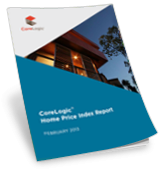 Real Estate Investing News This Week 2014-02-08
All the Real Estate News That's Fit to RE-Print™
Welcome to our weekly edition of Real Estate Investing News This Week. Here's the best of this week's real estate news:
CoreLogic: Home Prices Up 11%
Foreclosure Rate Down to 2.5% at Year-End
New App Looks to Hasten Short Sale Process
We hope these real estate news items help you stay up-to-date with your real estate investing strategies and inspire some profitable real estate deals for you.
––Annual Price Growth is the Strongest Since 2005––
On Tuesday, CoreLogic released its December Home Price Index report. Year over year, home prices nationwide, including distressed sales, increased 11 percent in December 2013 compared to December 2012.
This change represents the 22nd consecutive monthly year-over-year increase in home prices nationally.
Excluding distressed sales, home prices increased 9.9 percent in December. Distressed sales include short sales and real estate owned (REO) transactions.
Other Highlights:
Including distressed sales, the five states with the highest home price appreciation were Nevada (+23.9 percent), California (+19.7 percent), Michigan (+14.0 percent), Oregon (+13.7 percent) and Georgia (+12.8 percent).
Including distressed sales, Arkansas (-1.5 percent), New Mexico (-1.3 percent) and Mississippi (-.2 percent) posted home price depreciation in December 2013.
December 2013 Home Prices Remain 18 Percent Below April 2006 Peak.
By Tony Barringer
"Last year saw 'significant, sustained' improvements in both delinquency and foreclosure numbers, according to Black Knight Financial Services (BKFS).
The company's Data and Analytics division released on Monday its year-end Mortgage Monitor Report, which builds on its recently released "first-look" stats for the year.
According to the report, 6.47 percent of the nation's mortgages last year were delinquent, down from a peak of 10.57 percent in January 2010 and about 1.5 times the pre-crisis average of 4.27 percent (in December 2005). It was the fourth straight year of improvements.
Meanwhile, about 2.48 percent of loans were in some state of foreclosure—a rate about 4.6 times the pre-crisis average."

By Colin Robins
"ShortSave, Inc., announced Tuesday a new application aimed at shortening the time for a one-lien short sale or loan modification transaction. The Colorado-based company expects the ShortSave application to be available later this year.
The average short sale takes 165 days, a time period ShortSave anticipates being able to cut to a paltry 36 days. The application is projected to save a non-performing note investor $1,200-1,800 in lost interest on an average loan."