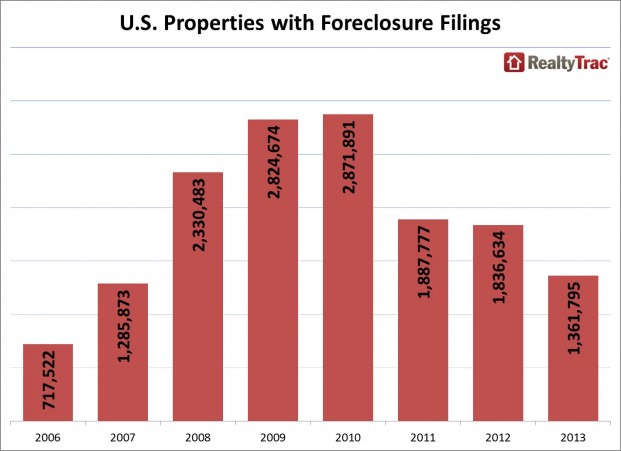 Real Estate Investing News This Week 2014-01-25
All the Real Estate News That's Fit to RE-Print™
Welcome to our weekly edition of Real Estate Investing News This Week. Here's the best of this week's real estate news:
Zillow says home values will increase 4.8% in 2014
Foreclosure filings are down 26% – lowest since 2007
Credit default rates decrease again
The myths and the facts about short sales
We hope these real estate news items help you stay up-to-date with your real estate investing strategies and inspire some profitable real estate deals for you.
Zillow's fourth quarter
Real Estate Market Reports
show home values increased 1.4% from the third quarter of 2013 to the fourth quarter of 2014 to $169,100.
2013 closed on a strong note with the Zillow Home Value Index (ZHVI) up 6.4% from December 2012 levels.
"Overall, we are seeing a widening slow-down in home value appreciation with some markets showing more of a slow-down than other markets….
This slowdown was expected, and shouldn't come as a surprise, as home values have been growing at an unsustainable pace in 2013, especially in many markets in California and the Southwest."

RealtyTrac's Year-End 2013 U.S. Foreclosure Market Report™ which shows foreclosure filings — default notices, scheduled auctions, and bank repossessions — were reported on 1,361,795 U.S. properties in 2013, down 26 percent from 2012 and down 53 percent from the peak of 2.9 million properties with foreclosure filings in 2010.
The 1.4 million total properties with foreclosure filings in 2013 was the lowest annual total since 2007, when there were 1.3 million properties with foreclosure filings.

S&P/Experian Consumer Credit Default Indices showed decline in national default rates during the month. The national composite was 1.35% in December, a slight decrease from 1.37% in November.
The first mortgage default rate was 1.27% in December, marginally down from 1.28% last month. The second mortgage posted 0.76% in December, down from 0.78% in November. The auto loan default rate was 1.12% in December, down from 1.15% in the previous month.
"Consumers' financial condition continues to improve", says David M. Blitzer, Managing Director and Chairman of the Index Committee for S&P Dow Jones Indices.

In this highly informative blog post, FeddieMac's Tracy Mooney discusses eight common misconceptions about short sales and the real facts.
For example:
Myth: I can't get a short sale on an investment property or second home.
Fact:  Investment properties and second homes are eligible for a Freddie Mac shortsale if borrowers meet the eligibility requirements.
Myth:  Short sales can take several months to complete.
Fact:  With Freddie Mac's Standard Short Sale, the time lines are significantly shorter. Servicers have 30 days to make and communicate a decision to you once they receive your completed application. Once approved, you can expect to close on your short sale within 60 days – working with an experienced real estate agent can help expedite the process.