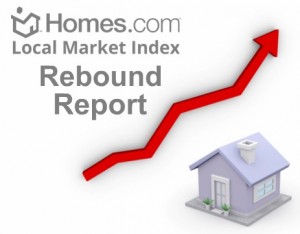 Real Estate Investing News This Week 2013-09-28
All the Real Estate News That's Fit to RE-Print™
Welcome to our weekly edition of Real Estate Investing News This Week. Here's the best of this week's real estate news:
Case-Schiller Indices: 12% annual rate of gain continues
RealtyTrac®  August 2013 U.S. Residential & Foreclosure Sales Report released
Homes.com: 22% of top U.S. markets fully recovered
Mortgage delinquency rate continues to fall
We hope these real estate news items help you stay up-to-date with your real estate investing strategies and inspire some profitable real estate deals for you.
Data through July 2013, released this week by S&P Dow Jones Indices for its S&P/Case-Shiller Home Price Indices showed increases of 1.9% and 1.8% from June for the 10- and 20-City Composites.
For at least four months in a row, all 20 cities showed monthly gains. Phoenix posted 22 consecutive months of positive returns.
"Home prices gains are holding their 12% annual rate of gain established by the two Composite indices in April," says David M. Blitzer, Chairman of the Index Committee at S&P Dow Jones Indices.
"The Southwest continues to lead the housing recovery. Las Vegas home prices are up 27.5% year-over-year; in California, San Francisco, Los Angeles and San Diego are up 24.8%, 20.8% and 20.4% respectively. However, all remain far below their peak levels."
Complete details with charts and graphs here >>>
On Thursday, RealtyTrac®  released its August 2013 U.S. Residential & Foreclosure Sales Report, which shows that U.S. residential properties, including single family homes and condominiums and townhomes, sold at an estimated annualized pace of 5.6 million in August, up 2 percent from the 5.5 million pace in July and up 12 percent from the 5.0 million pace in August 2012.
The national median sales price in August was $175,000, up 3 percent from the previous month and up 6 percent from a year ago — the 17th consecutive month where median home prices have increased annually nationwide.

"Seven years after the housing bubble burst, U.S. home prices are clearly on the rise again, up 23 percent from the bottom in March 2012 although still 26 below the peak of the housing price bubble in August 2006," said Daren Blomquist, vice president at RealtyTrac.
"This recovery in home prices and sale volume continues to be driven in large part by cash buyers and institutional investors, as evidenced by the increasing share of sales represented by those two categories in August."
All-cash purchases represented 45 percent of all residential sales in August, up from 39 percent in July and 30 percent in August 2012.
Among metro areas with a population of 1 million or more, those with the highest percentage of all-cash sales were Miami (69 percent), Detroit (68 percent), Las Vegas (66 percent), Jacksonville, Fla., (65 percent), and Tampa, Fla., (64 percent).
By Nicole Selvaggi
"According to the latest Homes.com Rebound Report, 22 of the top U.S. markets showed more than a 100% rebound in the price decline attributable to the Great Recession – up from the 19 markets in last month's report. That is now more than 20 percent of the top U.S. markets that are fully recovered…."

By Hugh Moore
"The total United States mortgage loan delinquency rate fell to 6.2 percent in August according to a new report by Lender Processing Services (LPS). August's rate represented a 3.31 percent decrease from the previous month and a 9.71 percent decrease from August 2012….
The total U.S. foreclosure pre-sale inventory rate stood at 2.66 percent, a 5.74 percent decrease from the previous month and a 34.08 percent decrease from August 2012."