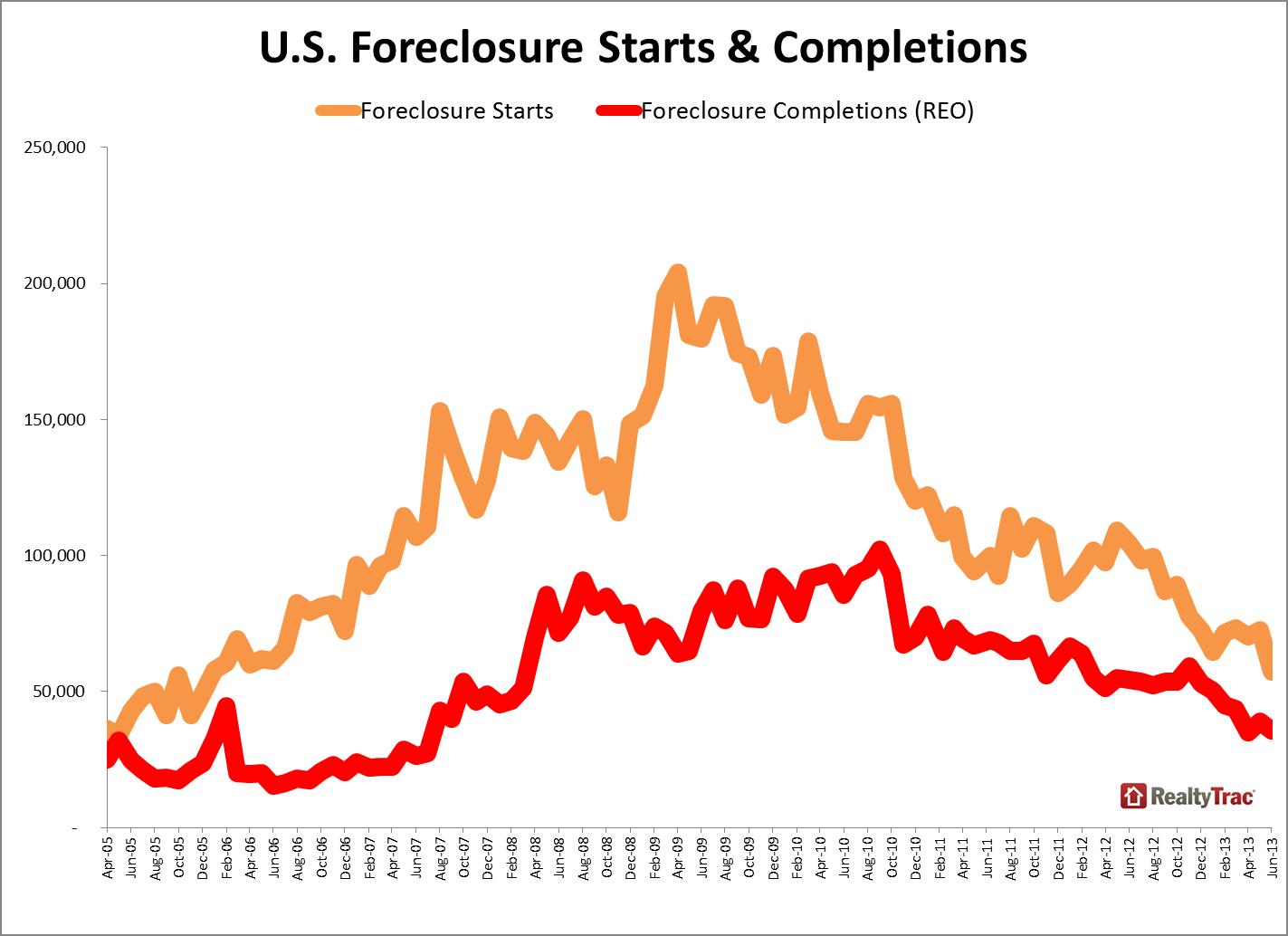 Real Estate Investing News This Week 2013-07-13
All the Real Estate News That's Fit to RE-Print™
Welcome to our weekly edition of Real Estate Investing News This Week. We have lots of interesting real estate news for you.
Foreclosure activity is down 14 percent, foreclosure inventory is down 29 percent, the mortgage delinquency rate has fallen by 15 percent, and home prices are up by over 12 percent.
While the news this week is positive for a real estate recovery, MarketWatch's David Weidner says, "the housing recovery is bogus." You can read his opinion and commentary below.
We hope these real estate news items help you stay up-to-date with your real estate investing strategies and inspire some profitable real estate deals for you.
On Thursday, RealtyTrac®  released its Midyear 2013 U.S. Foreclosure Market Report™, which shows a total of 801,359
U.S. properties with foreclosure filings — default notices, scheduled auctions and bank repossessions — in the first half of 2013. That is a 19 percent decrease from the previous six months and down 23 percent from the first half of 2012.
A total of 127,790 U.S. properties had foreclosure filings in June, down 14 percent from the previous month and down 35 percent from a year ago to the lowest monthly level since December 2006 — a six and a half year low.
U.S. foreclosure starts in June dropped 21 percent from the previous month and were down 45 percent from a year ago to the lowest monthly level since December 2005 — a seven and a half year low.
—Q1 2013 shadow inventory shows steep decline—
On Tuesday, CoreLogic® released its May National Foreclosure Report with a supplement featuring quarterly shadow inventory data as of April 2013. According to CoreLogic analysis:
There were 52,000 completed foreclosures in May 2013, down from 71,000 in May 2012, a year-over-year decrease of 27 percent.
Current residential shadow inventory as of April 2013 was under 2 million units, representing a supply of 5.3 months. The overall shadow inventory is down 34 percent from its peak in 2010, when it reached 3 million homes, and down 18 percent from a year ago, when it was at 2.4 million.
Details and get a copy of the National Foreclosure Report here: CoreLogic Foreclosure Report May 2013
See also:
By Esther Cho:
"Delinquencies saw the steepest year-to-date drop since 2002 in May as new problem loan rates inched toward pre-crisis lows, according to Lender Processing Services'(LPS) Mortgage Monitor report released Monday.
Since the end of last year, the delinquency rate has fallen by more than 15 percent to 6.08 percent in May."
According to the CoreLogic® has released its May CoreLogic Home Price Index (HPI®) report, Home prices nationwide increased 12.2 percent year-over-year in May 2013. This change represents the biggest year-over-year increase since February 2006 and the 15th consecutive monthly increase in home prices nationally.
Excluding distressed sales, home prices increased on a year-over-year basis by 11.6 percent in May 2013.
Full-month May 2013 national data can be found at the Home Price Index Report page.
Opinion and Commentary:
A rebound for a wealthy few — and the banks
By David Weidner, MarketWatch
"It's said that there's never been an economic recovery without a rebound in real estate. And for investors desperate for any sign of a housing rebound, the past year has been a tonic.
You've read the headlines: This is a great time to be a home buyer.
Interest rates are still near historic lows. Real-estate prices have edged up, but only slightly when compared with the long-term trend. Some markets — such as San Jose, California, Las Vegas, and Phoenix — possibly are overheating.
That's the good news. The bad: Very few homeowners are seeing the benefits.
In other words, the housing recovery is bogus.
Here's why…."   Read More >>>