All the Real Estate News That's Fit to RE-Print™
Welcome to our weekly edition of Real Estate Investing News This Week. The Case-Shiller Indices are out and home prices are rising… over 10% this year. In other news, foreclosure inventory is down 24% from a year ago. And we've included two commentaries to shed perspective on the overall picture of the real estate market.
We hope these real estate news items help you stay up-to-date with your real estate investing strategies and inspire some profitable real estate deals for you.
Released on Tuesday, the S&P Dow Jones Indices for its S&P/Case-Shiller Home Price Indices showed that all three composites posted double-digit annual increases.

The 10-City and 20-City Composites increased by 10.3% and 10.9% in the year to March, with the national composite rising by 10.2% in the last four quarters. All 20 cities posted positive year-over-year growth.
As of March 2013, average home prices across the United States are back to their late 2003 levels.
"Home prices continued to climb," says David M. Blitzer, Chairman of the Index Committee at S&P Dow Jones Indices. "Home prices in all 20 cities posted annual gains for the third month in a row.
Twelve of the 20 saw prices rise at double-digit annual growth. The National Index and the 10- and 20-City Composites posted their highest annual returns since 2006."
 Complete details, including charts and graphs are here.
See Also:
Case And Shiller Say Housing Is Better, Not Back To Booming
"Chip Case and Robert Shiller are known for the gauge of home prices that bears their name, but as that indicator continues to draw cheers for a U.S. housing recovery the pair warn that things are not quite as rosy as they appear."
By Esther Cho:
"U.S. home prices appreciated at a strong pace in the first quarter as prices rose 1.9 percent from the previous quarter, the Federal Housing Finance Agency (FHFA) reported. The quarterly gain marks the seventh straight increase.
Compared to the first quarter of 2012, prices were up by 6.7 percent, according to the FHFA's seasonally adjusted, purchase only House Price Index (HPI)."
More from Esther Cho:
"In April, the share of sales involving foreclosures and short sales maintained their downward path, falling to the lowest level since 2009, according to the Campbell/Inside Mortgage Finance HousingPulse Tracking survey.
Using a three-month moving average, the survey found distressed sales accounted for 33 percent of home purchases in April, a decrease from 35.6 percent in March and 43.6 percent in April 2012. The figure for April is the lowest level since the HousingPulse survey began accumulating data on such properties in 2009."
By Megan Hopkins:
"Home prices in the U.S. continued to increase from February to March, up 1.4% from the previous home index report, and up 7.6% from one-year prior, Lender Processing Services reported in its March U.S. Home Price Index report.
The LPS report comes on the same day as the S&P/Case-Shiller Home Price Indices, which appeared a bit more bright than the LPS report…."
On Wednesday, CoreLogic® released its April National Foreclosure Report. According to CoreLogic, there were 52,000 completed foreclosures in the U.S. in April 2013, down from 62,000 in April 2012, a year-over-year decrease of 16%.
As of April 2013, approximately 1.1 million homes in the U.S. were in some stage of foreclosure, known as the foreclosure inventory, compared to 1.5 million in April 2012, a year-over-year decrease of 24%.
Download the CoreLogic Foreclosure Report April 2013.
From Five Star Institute Economist, Mark Lieberman:
"The Pending Home Sales Index (PHSI) rose a disappointing 0.3 percent to 106.0 in April, the National Association of Realtors reported Thursday. Economists had expected a 1.4 percent increase to 107.5 from March. The March index was unchanged from the originally reported 105.7.
Last week in a parallel report, the Census Bureau and HUD reported contracts for the sale of new homes increased 2.3 percent to 454,000 in April.
Both the new homes sales and the pending home sales reports measure contract signings and are designed to be forward looking indicators."
Note From the Publisher, J.P. Vaughan
Although we usually do not usually comment on the news reported here, we think it's important to look at the bigger picture. Here are two illuminating commentaries for you to consider. And the chart below puts things into perspective.
By Ryan Chittum
I know screaming "housing bubble" draws clicks and viewers, but no, we are not in another housing bubble.
First, prices, as measured by Case-Shiller, are still down 27 percent from their peak seven years ago. But Case-Shiller calculates nominal prices, not real ones. And the consumer price index (inflation) is up 15 percent since 2006. So real house prices are about 37 percent below 2006 levels and are just now returning to where they were 13 years ago.
Here's a chart from the excellent Bill McBride of Calculated Risk showing real house prices going back a few decades: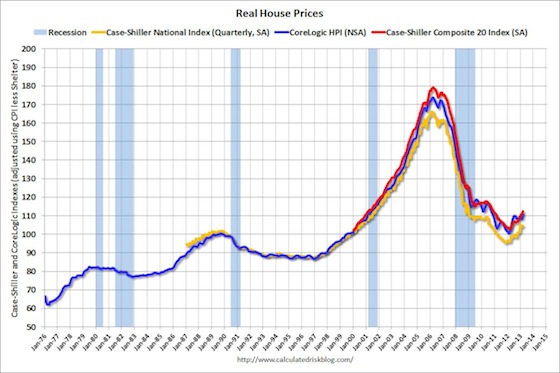 By Five Star Institute Economist, Mark Lieberman:
"Recent reports from the National Association of Realtors and the Census Bureau and HUD showed sharp increases in unit sales and prices, as well as increases in the inventory of homes for sale for April.
Has housing turned the corner? Look again.
Sales up, prices up, what's wrong with this picture?"