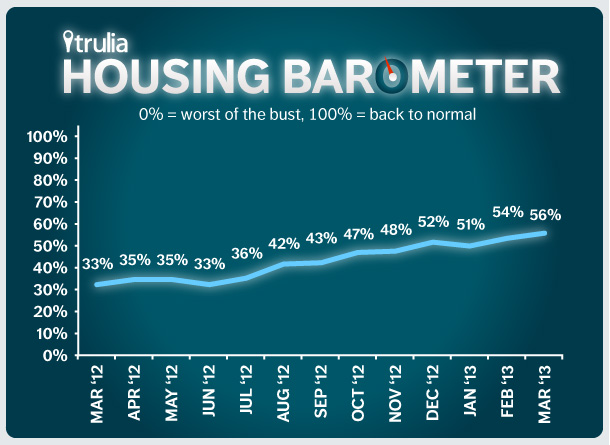 Real Estate Investing News This Week 2013-05-04
All the Real Estate News That's Fit to RE-Print™
Welcome to our weekly edition of Real Estate Investing News This Week. Real estate news highlights include:
The Case-Shiller Indices showed a big gain in house prices
Pending home sales rose in March
Corelogic reports that foreclosures have decreased 16%
Trulia's Housing Barometer shows market is 56% back to normal
The  FHFA House Price Index is up 7.1%
Bad mortgages hit their lowest level since 2008
We hope these real estate news items help you stay up-to-date with your real estate investing strategies and inspire some profitable real estate deals for you.
The Dow Jones Indices for its S&P/Case-Shiller Home Price Indices, released Tuesday, showed average home prices increased 8.6% and 9.3% for the 10- and 20-City Composites in the 12 months ending in February 2013.
Get complete data here: S&P/Case-Shiller Home Price Indices ─ February 2013
See also:
Behind the Numbers in the S&P/Case-Shiller Release
"The February S&P/Case-Shiller Release….shows a strong performance by housing across all 20 metropolitan areas.  The composite of 20 cities rose 9.3% in the last year, the best gain since May 2006 and seasonally adjusted all 20 cities rose month to month for two consecutive months; the last time that happened was at the beginning of 2005."
Case-Shiller Indices Post Sharp Gain in February
"Despite weakness in the Midwest, home prices posted their strongest year-over-year gain in almost seven years in February…
"Five Takeaways From the Latest Case-Shiller Report

"Tuesday's report is the latest sign that the U.S. housing market has rebounded after home prices hit a bottom one year ago."
From Housing Wire's Megan Hopkins:
"After remaining flat in February, pending home sales increased in March, floating above year-ago levels," according to the National Association of Realtors, which noted contract activity in recent months shows only modest movement.
See also:
Pending Home Sales Index Up For March
"The Pending Home Sales Index (PHSI) rose 1.5 percent to 105.7 in March, the highest level in almost three years, the National Association of Realtors (NAR) reported Monday."
—Foreclosure Inventory Down 23 Percent Nationally Since March 2012—
On Tuesday, CoreLogic® released its March National Foreclosure Report. According to CoreLogic, there were 55,000 completed foreclosures in the U.S. in March 2013, down from 66,000 in March 2012, a year-over-year decrease of 16 percent. On a month-over-month basis, completed foreclosures rose from 52,000 in February 2013 to the March level of 55,000, an increase of 6 percent.
Download a copy of the Report here: CoreLogic Foreclosure Report March 2013
Trulia's Housing Barometer shows market is 56% back to normal in March

Each month, Trulia's Housing Barometer charts how quickly the housing market is moving back to "normal" based on three key housing market indicators: construction starts (Census), existing home sales (NAR), and the delinquency-plus-foreclosure rate (LPS First Look).
Trulia's Chief Economist, Jed Kolko states:
"Averaging these three back-to-normal percentages together, the housing market is now 56% of the way back to normal, up from 54% in February and 43% six months ago in September.
One year ago, the market was only 33% back to normal – so the last year has been a significant recovery.
Furthermore, this month's improvement is even better than it looks with the shift of sales from distressed to conventional and early signs that the inventory crunch may be easing, which will bring some relief to would-be homebuyers.
The Federal Housing Finance Agency (FHFA) uses the purchase prices of houses with mortgages owned or guaranteed by Fannie Mae or Freddie Mac to calculate the monthly index.
For the 12 months ending in February, U.S. house prices rose 7.1 percent. The U.S. index is 13.6 percent below its April 2007 peak and is roughly the same as the October 2004 index level. U.S. house prices have not declined on a monthly basis since January 2012.
From Housing Wire's Megan Hopkins:
"New home sales made a U-turn after falling 4.6% in February to 411,000 homes sold.
The sales of new single-family homes inched up 1.5% in March to 417,000.
March sales are up a more dramatic 18.5% from the year-ago estimate of 352,000, according to data from the Census Bureau and the Department of Housing and Urban Development."
By Nick Timiraos
"The number of U.S. mortgages that were behind on their payments or in foreclosure in March fell below the 5 million mark for the first time since 2008, according to a report released Tuesday.
The number of loans in the foreclosure process fell to just below 1.69 million in March, the lowest level in nearly four years, according to Lender Processing Services. That was down by almost 20% from one year ago. Overall, around 3.4% of all U.S. mortgages were in foreclosure at the end of March, down from 4.2% a year ago."