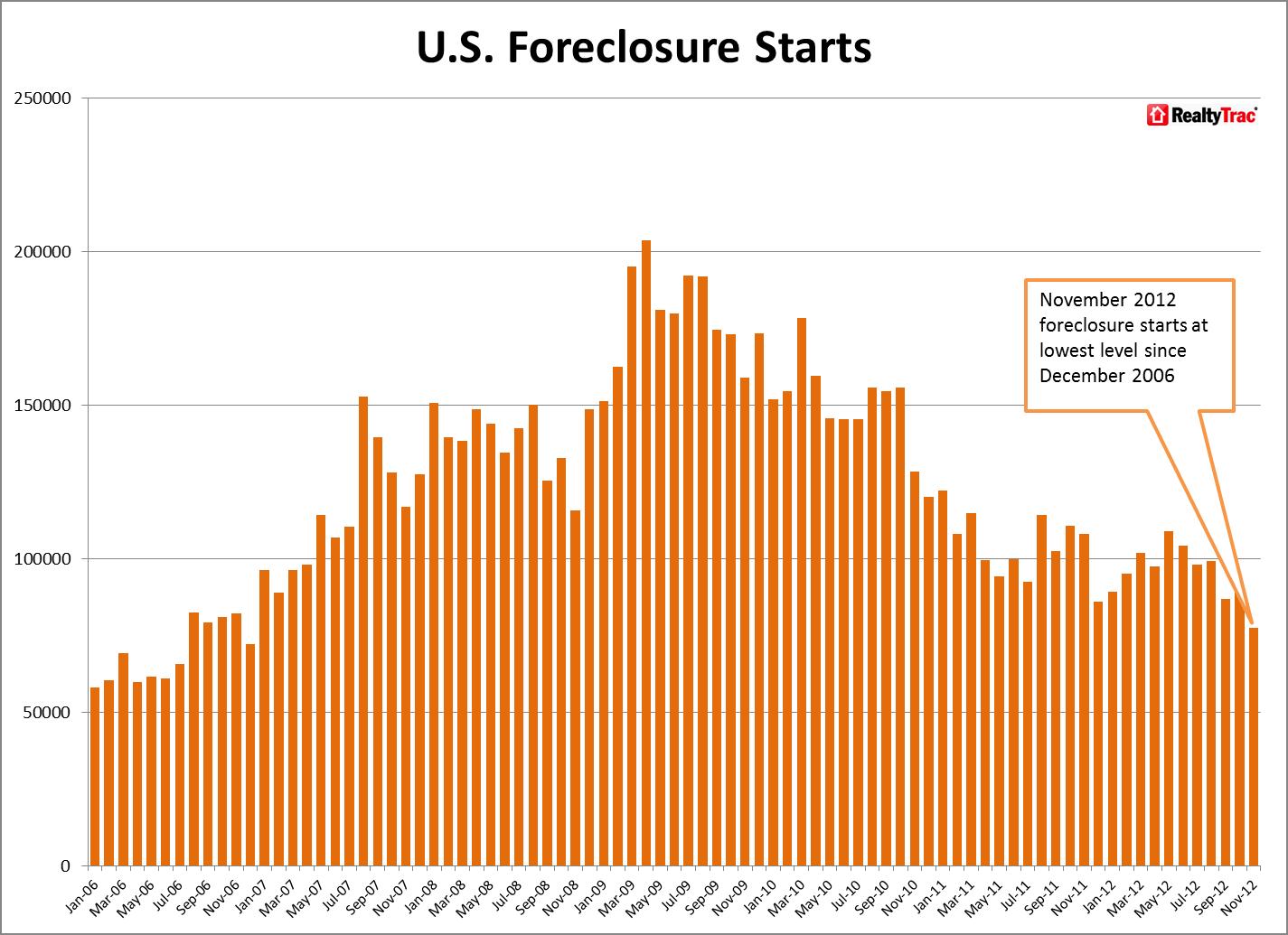 Hot Real Estate Investment News This Week 2013-01-12
All the Real Estate News That's Fit to RE-Print™
Welcome to our weekly edition of Hot Real Estate Investment News.
We have only a few real estate news items this week:
Foreclosure starts are at a 71-month low
Annual bank repossessions increased for the first time since October 2010
29% of homeowners own their home free and clear of a mortgage
Here are the real estate investing related news items that caught our attention this past week. We hope they help you stay up-to-date with your real estate investment strategies and inspire some profitable real estate deals for you.
Foreclosures Starts Drop 28 Percent from a Year Ago to 71-Month Low
Bank Repossessions Increase Annually for the First Time since October 2010
On Friday, RealtyTrac® released its U.S. Foreclosure Market Report™ for November 2012, which shows foreclosure filings — default notices, scheduled auctions and bank repossessions — were reported on 180,817 U.S. properties in November, a decrease of 3 percent from October and down 19 percent from November 2011 — marking the 26th consecutive month with an annual decrease in foreclosure activity.
High-level findings from the report:
U.S. foreclosure starts were down 13 percent from the previous month and down 28 percent from a year ago to the lowest level since December 2006 — a 71-month low.
U.S. bank repossessions (REO) increased 11 percent from the previous month and were up 5 percent from November 2011, a nine-month high and the first year-over-year increase in REOs since October 2010.
Despite the national decrease in foreclosure activity — driven largely by big year-over-year drops in California, Georgia, Michigan, Texas and Arizona — foreclosure activity increased from a year ago in 23 states and the District of Columbia. Nine states posted 12-month highs in foreclosure activity in November, including Florida, New Jersey, New York, Ohio and South Carolina.
Click here for complete findings, charts, and graphs.
According to an analysis by Zillow Research, 29% (20.6 million) of homeowners own their home outright.
Click here for details and to see the free and clear ownership rate by state and by county.