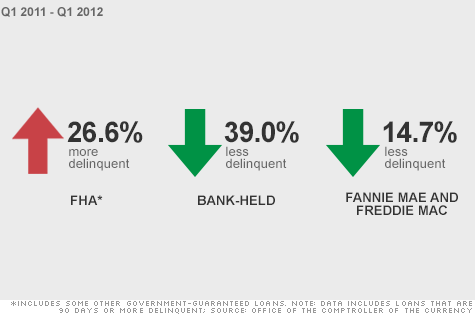 Hot Real Estate Investment News This Week 2012-07-14
All the Real Estate News That's Fit to RE-Print™
Welcome to our weekly edition of Hot Real Estate Investment News.
The big news this week is that foreclosure starts are rising – 1,045,801 foreclosure filings in the first six months of 2012, and FHA mortgage delinquencies are soaring.
Here are real estate investing related news items that caught our attention this past week. We hope they help you stay up-to-date with your real estate investment strategies and inspire some profitable real estate deals for you.

CNNMoney's Tami Luhby reports: "The mortgage market appears to finally be stabilizing – as long as you ignore loans backed by the Federal Housing Administration.
Increasingly, FHA-insured loans are falling into foreclosure or serious delinquency, moving in the opposite direction of loans guaranteed by Fannie Mae and Freddie Mac or those held by banks, which are all showing signs of improvement….
The share of government-guaranteed loans, a majority of which are backed by FHA, that were 90 days or more delinquent soared nearly 27% during the year ending March 31."
CNBC Real Estate Reporter, Diana Olick, states:
"While foreclosures brought home prices down initially, they are now driving them up because there is so much demand from investors and first time buyers, looking for bargains. Supplies of these cheap homes are also dwindling, because banks are still working to modify many troubled loans, and states that require a judge in the foreclosure process are still facing a huge backlog."
Ms. Olick concludes: "Bottom line, until this housing market is no longer dependent on distressed supply to support overall home sales, calling a bottom to the national housing market is premature."

RealtyTrac's Midyear 2012 Foreclosure Market Report shows a total of 1,045,801 U.S. properties with foreclosure filings — default notices, auction sale notices and bank repossessions — in the first half of 2012, a 2 percent increase from the previous six months but still down 11 percent from the first half of 2011.
The report also shows that 0.79 percent of all U.S. housing units (one in 126) had at least one foreclosure filing in the first six months of the year.
For more commentary on this RealtyTrac Report, see also:
DSnews.com's Esther Cho reports:
"While negative equity still continues to hinder the housing market's recovery, CoreLogic reported Thursday that the share of underwater mortgages declined."
"In the first quarter of 2012, the total number of underwater homes was 11.4 million….In the fourth quarter of 2011, 12.1 million properties….were underwater."
See also: Amount of underwater borrowers declines in 1Q
CNBC Real Estate Reporter, Diana Olick, states:
"Mortgage rates hit new lows and applications to refinance fell for the third straight week. It defies logic, unless of course you operate in today's tight mortgage market.
It's not just about the rate anymore. Negative equity, strict underwriting and big bank backlogs are keeping many borrowers from taking advantage of these incredibly low mortgage rates."