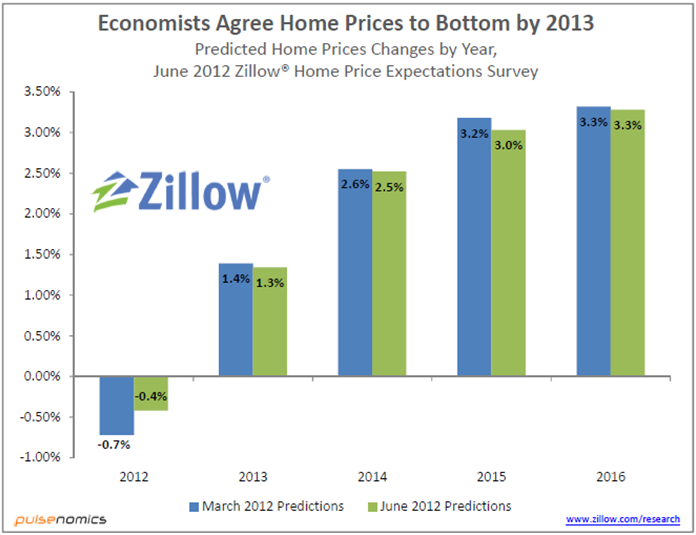 Hot Real Estate Investment News This Week 2012-06-30
All the Real Estate News That's Fit to RE-Print™
Welcome to our weekly edition of Hot Real Estate Investment News.
Much of this week's news revolved around the highly-anticipated S&P/Case-Shiller Home Price Index, which was released Tuesday. Great news or much ado about nothing?
Here are the other real estate investing related news items that caught our attention this past week. We hope they help you stay up-to-date with your real estate investment strategies and inspire some profitable real estate deals for you.
Let us know what you think by leaving your "Comments" below.
"The June 2012 Zillow Home Price Expectations Survey reveals that economists agree that home prices will decline only slightly in 2012 and expect to see a bottom in home prices by 2013….
Those surveyed, however, have a different view toward the trajectory of the U.S. home ownership rate, with a majority (56%) of respondents expecting that rate to be below 65.4% within the next five years."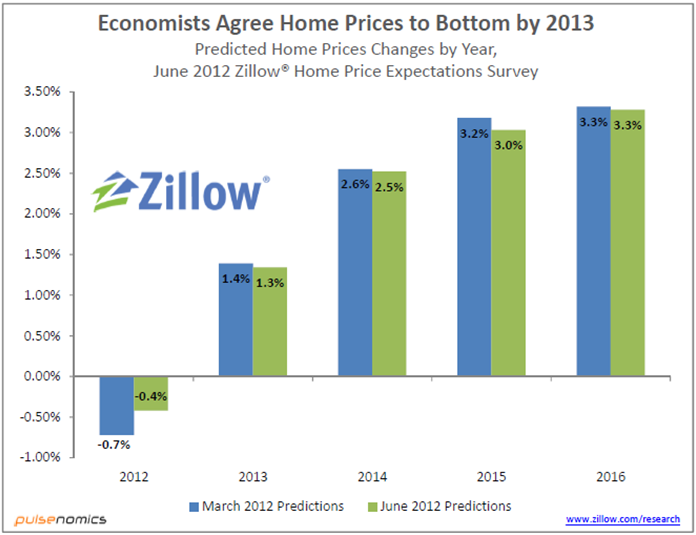 Five Star Institute economist, Mark Lieberman, reports:
"New home sales jumped to 369,000 in May—the highest level since April 2010—as the median and average home prices both dropped, the Census Bureau and HUD reported jointly Monday.
Economists had expected sales to reach 350,000 from the prior month's 343,000. Sales increased 7.6 percent month-over-month, the first increase in three months, and were up 19.8 percent since May 2011."
"Data through April 2012, released June 26, by S&P Indices for its S&P/Case-Shiller Home Price Indices, the leading measure of U.S. home prices, showed that on average home prices increased 1.3% in the month of April for both the 10- and 20-City Composites."
Access the full report here: S&P/Case-Shiller Homes Price Indices – June 2012
The Wall Street Journal writer, Nick Timiraos, presents an interesting analysis worth reading, stating in part:
"Home prices typically show a seasonal gain in April, and Tuesday's report from the S&P/Case-Shiller index was no different. Home prices were up 1.3% from March for the 20-city index. After adjusting for seasonal factors (more homes generally sell in April), prices were up by 0.7%.
This year was clearly better than April 2011, when monthly prices rose by 0.7%, and when adjusting for seasonality, they fell by 0.1%.
On an annual basis, prices are still falling, but the pace of those declines is easing. Consider that in December, prices were down 4% from one year earlier. January's reading stood at a 3.8% decline, and in February prices were down by 3.5% from one year ago. Against that backdrop, the annual declines of 2.6% in March and 1.9% in April show that the market is moving closer to showing annual price appreciation."
Read this article to see RealtyTrac's analysis and bank ratings.
"Pre-foreclosure sales (typically short sales) increased to a three-year high in the first quarter of 2012 even as the average pre-foreclosure sales price reached a record low — making 2012 a prime time to purchase a short sale.
But the process of buying a short sale and the discounts available can vary widely based on the lender/servicer/investor involved in approving the sale. Some banks are approving short sales more often, more quickly and at lower prices than others."
Esther Cho reports on the TransUnion property manager survey:
"Overall, managers reported they are doing better than the year before and are having an easier time attracting in residents despite the increase in prices.
The credit bureau's June survey included 1,248 property managers across the U.S. who represented a range of property sizes."