CRE Online Newsletter: 12/07/11
December 7, 2011
New Blog Articles
4 Big Mistakes Real Estate Investors Should Avoid

by J.P. Vaughan
Publisher, CRE Online
We all make mistakes. The trick is to keep them small and to learn from them. Even better: Learn from the mistakes of others.
Here are the top four mistakes that can cut your real estate investing career very short. Avoid these pitfalls and you can become a super-successful real estate investor. Read more…
A Hidden Opportunity in Real Estate Investing
by Jim McCune
Here's an idea: Rather than struggling to find that perfect real estate investment for the returns you want, invest in real estate that has an existing business on the property. It's easier than you think.  Read more…
FREE Real Estate Strategy Session
Now you can experience a tremendous breakthrough in your real estate business. For a limited time, I'm making my team available for a one-on-one real estate strategy session with you.
Discover how to make more money with real estate, make fast cash in today's market, and create long-term financial security. Just fill out this short form, and one of my team members will contact you to schedule your free strategy session.
Click Here ==> FREE Strategy Session
Reserve These Dates…
Mark Your Calendars – February 24, 25, 26, 2012
We'll be holding a very special 3-day absolutely 100% educational event and, as a CRE Online Subscriber, you'll get to join us for FREE. This is a pure learning opportunity taught by super-qualified real estate investors. NO books or courses will be sold.
Be sure to save these dates now because we'd love to meet you there in person! Details coming soon…
Limited Time Offer – BIG Sale on Two Courses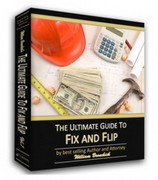 The Ultimate Guide to Fix and Flip
For beginners and experienced investors alike… For those just getting started, fixing and flipping properties is great–it's low cost–and almost no risk to beginners–if you do it right.
Even if you are a seasoned investor, you will learn even more in-depth ways of increasing your bottom line. More info…
Regular Price: $297
Sale Price: $49
The Ultimate Guide to Buy and Hold
How to create massive cash flow and a prosperous retirement through rental properties… Real estate is on sale! Learn how the depressed real estate market can actually make you richer in 2012 and beyond. More info…
Regular Price: $297
Sale Price: $49