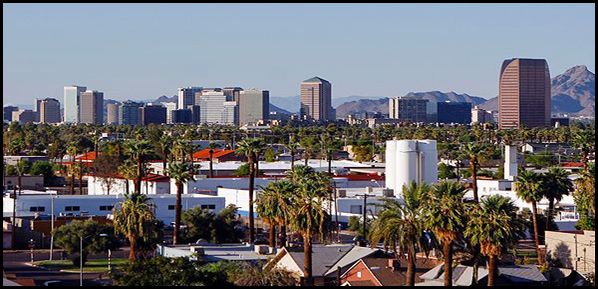 Top 3 Cities to Invest in NOW
As real estate investors, don't we all wish we had a crystal ball to forecast the real estate market future? With that crystal ball, we could confidently invest in certain areas, strategically buying and selling in some markets, and using buy and hold strategies in other markets.
While I don't have a crystal ball for you, I do have my own experience to draw on, and I have done a bit of research to find what other experts are sharing. Here are some interesting facts, figures, and opinions on what cities are showing the best recovery in housing. I've listed a few for you below.

Three top
foreclosure
markets are among the top 10 recovering markets. Those are (in consecutive order) Phoenix-Mesa, Arizona,  Miami and Orlando, Florida. All three of those markets are seeing list price appreciation, reductions in inventory, and the median age of their inventory.
According to the
National Association of REALTORS
(
NAR
):
#1 Phoenix
Area median list prices are up 26.94% in the first quarter of 2012 compared to the same time last year, and the area experienced the largest increase in median list prices of all metropolitan statistical areas tracked.
The unemployment rate in Phoenix at the end of May 2012 (US Dept. of Labor) was 6.6%, which also contributes to its improving local economy and growing demand for housing.
In addition, the Phoenix market experienced a 32.94% year-over-year quarterly decline in the local median age of inventory (largely in part to the sale of thousands of foreclosure bargains). It is the opinion of the NAR that "if inventory remains in check, it's a matter of time before Phoenix stabilizes and has lasting home value appreciation."
Why Phoenix? The Super Bowl, Major League Baseball, NASCAR, Good Weather
First of all, even if you're not a hard-core football fan, you know what the NFL is, right? How about that all important game, namely the Super Bowl? Contributing to the city's recovery was hosting Super Bowl XL11 in 2008. Last year, Phoenix won out over Tampa, Florida to host the 2015 Super Bowl, which is considered a huge economic score (no pun intended) for a major metropolitan city.
Then there's baseball. In fact, 15 of the 30 Major League teams participate in spring training in Arizona. The other 15 are in Florida. What does that mean? Housing during that time that is near or convenient to the various venues are in very high demand for the players, players' families, as well as out-of-state baseball fans.
And if those two major sports events aren't enough, Arizona also has NASCAR events, which draws throngs of people from all over the country. Not to mention, Arizona's winters are more like most states' springs.
#2 Miami, Florida
Continues to remain a hot spot for international investors who are infusing the local housing market with cash transactions, to the tune of 65% of all Miami-Dade County sales. The housing market remains strong in Miami.
In fact, in the past year, the city's "for sale" inventory decreased by 48.03%, the market is moving 40.98% faster, and median list prices increased by 24.32% from first quarter 2011 to first quarter of 2012, according to NAR. "With a stabilized inventory and median list prices regaining some of the 50% of value lost since 2006, experts say one of the nation's hardest hit foreclosure markets is on its way back."
Why Miami? The Weather, Fashion, Basketball, the Boat Show
What makes Miami hot? It's not just the weather. Miami draws many, many people for its various fashion and cultural events, as well as sports fans for its basketball team, the Miami Heat. There is the ever-popular yearly Miami International Boat Show, which features thousands of boats and 2,000 exhibitors from all over the globe.
#3 Orlando, Florida
Like many other Florida towns, Orlando is showing signs that a turnaround may be just around the corner. NAR tells us that "the median age of inventory in the first quarter 2012 was 64 days, -38.46% below levels observed in the first quarter of 2011.
Orlando's "for sale" inventory in the first quarter of 2012 dropped -41.58%, while list prices rose 11.54% on a year-over-year quarterly basis." As a side note, "distressed properties remain problematic as 9,330 first-quarter foreclosure filings were reported (1 in every 101 homes), which is a 52.2% increase from the same quarter in 2011, and a 7.8% jump compared to fourth-quarter 2011."
Why Orlando? Walt Disney World, Universal Resort, SeaWorld, 170 Golf Courses
Almost anyone with children knows about the Walt Disney World Resort or Universal Orlando Resort or SeaWorld Orlando. But children aren't the only ones having fun in Orlando. A major draw to this central Florida city is more than 170 golf courses – a golfer's paradise.
No, this isn't a Tourism Board ad for these 3 cities. Just real facts and figures of why these are the top three cities currently experiencing a housing recovery and side bars for why people from all over the globe would want to take advantage of the available housing options you could offer as a savvy real estate investor.
Next time, I'll tell you about three more real estate markets on the top 10 list of "turnaround markets."